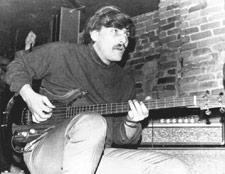 Nineteen sixty-nine was a weird year. No doubt about it. Confusion reigned: the cities were still smoking from riots, boys were becoming indistinguishable from girls, and bell-bottom corduroys were the height of fashion.
Ampeg was facing an identity crisis of its own. Their line of combo bass and guitar amps couldn't compete with the high-output rock and roll animals that competitors were offering. They needed a dose of modernization and they needed it quick. So in an attempt to create an amplifier somebody other than bald, pipe-smoking jazz cats would buy, Ampeg enlisted the expertise of respected guitar and amp tech Dan Armstrong to consult on new amplifier development.
Sometime during this period of brainstorming, Armstrong posed a heavy question to Ampeg: "Since you make amplifiers for guitar and bass, have you ever considered making a line of guitars and basses?" In truth, Ampeg had imported some guitars in the early '60s, as well as produced a line of electric upright "Baby Basses," but both efforts were about as popular as J. Edgar Hoover at a Black Panther rally. Realizing the Socratic purity of Armstrong's logic, the Ampeg executives took Armstrong's idea to heart, and set out to produce a line of instruments that were cool, hip, and groovy.
Ampeg charged Armstrong to conceive and build a prototype bass and guitar overflowing with a sense of "what's happenin' now." Armed with a head full of ideas, and most likely an advance from Ampeg, Armstrong hit the road to put his head in the proper space for the task at hand. Mescalito must have been whispering the secrets of the Aztec gods into Dan's ear on that trip, because he returned with a design so cool and advanced, it blew players' minds... and drove the Japanese copycat manufacturers to the brink of seppuku.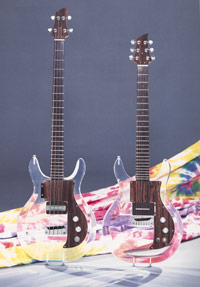 When introduced at the 1969 NAMM show in Chicago, the Ampeg Dan Armstrong guitar and bass caused slack-jawed envy and admiration. With bodies made of clear Plexiglas, Armstrong forever freed plastic from the bonds of having to imitate other materials, and let people see it for the beautiful substance it is. The choice of Plexiglas went deeper than mere visuals, however. Armstrong found Plexiglas incredibly dense—a property that greatly enhanced the instrument's properties of sustain.
Another revolutionary concept incorporated in the now christened "see through" instruments was their 24-frets clear-of-the-body design. This was inventive stuff! Armstrong also anticipated the clear guitar's popularity as a slide instrument by specially designing the lower bout with a unique cut-away, enhancing the player's reach to the uppermost frets.
Electronically, the guitar was a marvel. Featuring a series of quick-change pickups, players could pop in one of six pickups specially designed for varying styles, such as jazz, rock, and country music. The tone circuit was equally innovative, with the three-position switch featuring a full volume setting, allowing for a quick volume boost for those 20-minute solos players were so enamored of in those innocent days.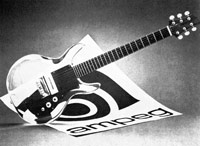 Of course, the Dan Armstrong guitars and basses were a big hit with rock stars of the day (due in part to the fact that many of them got theirs for free). Keith Richards and Bill Wyman of The Rolling Stones tore it up with a see-through guitar and bass on the band's landmark 1969 world tour, while other renowned Dan Armstrong users of the time included Paul McCartney, Jack Bruce, Leslie West, and Geezer Butler. Of course these instruments sounded incredible, but ego may have played an ugly part in their rock star popularity—why spend all that money on velvet trousers from Granny Takes A Trip, only to have your ample rock star crotch covered by a plank of wood? With the Dan Armstrong, it was all visible for the world to see.
Unfortunately, like many cool human endeavors, the Ampeg/Dan Armstrong relationship was eventually doomed. Contractual disputes and production difficulties resulted in the severing of relations between the two parties in 1971, making the original Dan Armstrong guitars and basses rare finds in these troubled times.
But alas, all is not lost. For those seeking the iconic look and sound of the original Dan Armstrong instruments, Ampeg has painstakingly re-created these hard-to-find guitars from the ground up. Incredible sustain and supersonic style are back... for those who just have to get their ya-ya's out the Plexiglass way.
» See the current reissue Plexi Guitar here
» See the upcoming reissue Plexi Bass here