January 24, 2019
The most iconic bass amplifier in history celebrates its 50th year
with the introduction of a special edition 50th Anniversary Heritage SVT
Special performance at the 2019 NAMM show will feature a rock legend playing
Ampeg's legendary 11-foot tall SVT amp, a.k.a. "The Beast".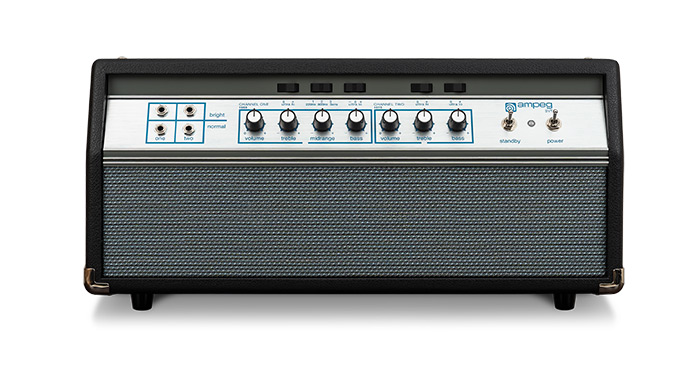 CALABASAS, Calif.—January 24, 2019— Ampeg today introduced the special edition Heritage™ SVT® 50th anniversary model to commemorate the 50th year of the SVT setting the standard for professional bass amplification. The original Ampeg SVT ("Super Vacuum Tube") 300-watt amplifier head had its professional debut on the Rolling Stones' iconic 1969 U.S. tour, with eight SVT heads across the stage to power all of the guitar and bass instruments.
"The Ampeg SVT bass amp has had a profound impact on the history of rock and roll for the last 50 years, defining the sound of the bass guitar on countless recordings and tours," said Marcus Ryle, President of Yamaha Guitar Group, Inc., the US-based parent company of Yamaha Guitars, Line 6, and Ampeg. "It seems very fitting that we can honor that legacy with a 50th anniversary model that embodies the best of SVT tone."
Through the years the Ampeg SVT bass amp has evolved through several iterations and modifications, with each leaving a distinctive mark on music history. "In making the 50th anniversary model, we evaluated the historic designs and tones of the SVT in order to isolate the best sound we could offer," said Dino Monoxelos, Ampeg's Product Marketing Manager. "The choice was so hard to make, we decided to put two distinct Ampeg SVT designs into one product to create the ultimate SVT."
Originally introduced in 1969, the SVT and SVT-810 cabinet is still the most requested concert bass amplifier among touring professionals, backline companies, and sound companies worldwide. When it comes to shear power and classic tone, no other bass amp sounds like the SVT. Over the last five decades, the SVT has been featured on countless studio recordings, live concert performances, music award shows, late-night TV performances, and more.
The SVT 50th anniversary model's first channel features the authentic sound of the original 1969 model that launched the series. Channel two is voiced from a hand-selected mid '70s SVT model that represented the ideal of the "golden-era" evolution of SVT. Both channels are still complimented with the massive SVT 300-watt tube power section, which is unrivaled to this day. While delivering authentic vintage sounds, each unit is hand assembled in the USA and utilizes modern quality components and production techniques to ensure dependable operation gig after gig.
For this special anniversary edition, careful attention has also been paid to cosmetic details such as a laser-etched panel and top-quality cabinet hardware. The combination of "best of the best" channel selection, classic SVT tone and power, modern USA assembly, and attention-to-detail cosmetics makes the Ampeg 50th Anniversary heritage SVT a bass amp worthy of any stage.
Pricing & Availability
Ampeg 50th Anniversary Heritage SVT ($2699.99 US MSRP) will be available in summer of 2019.