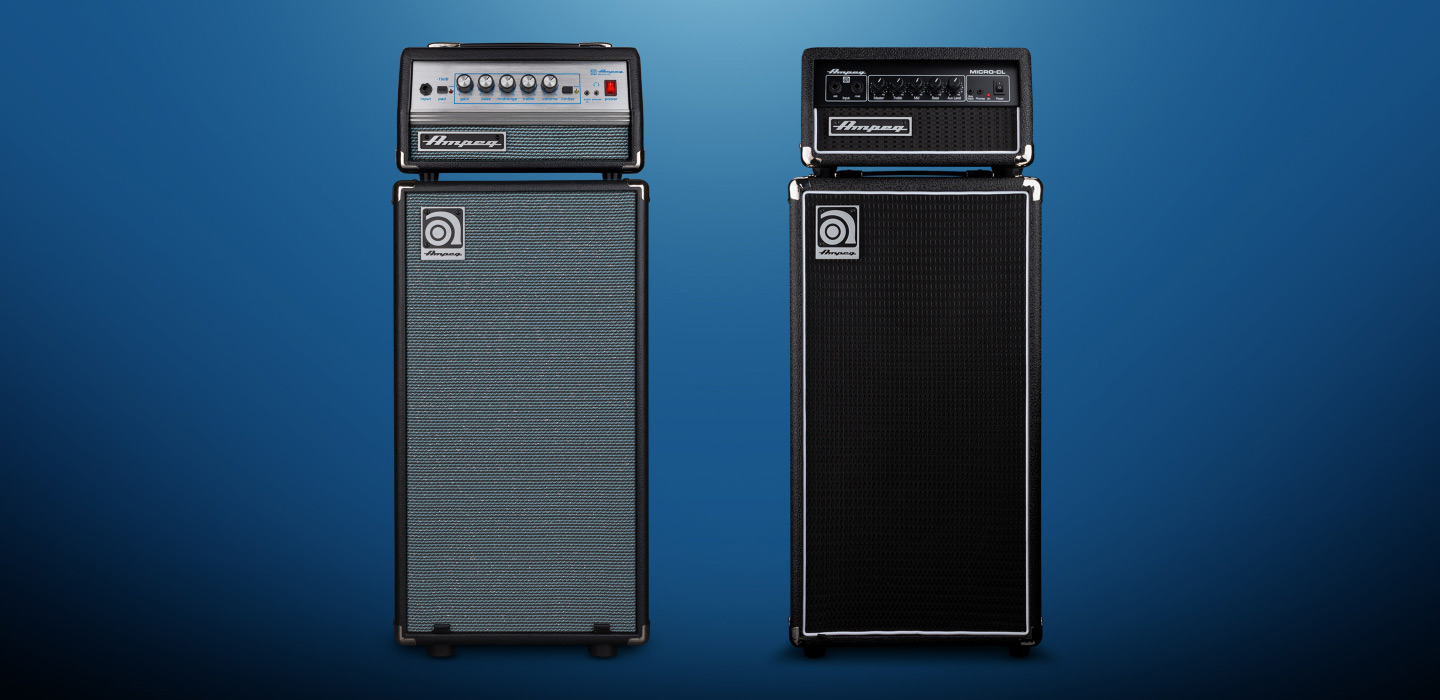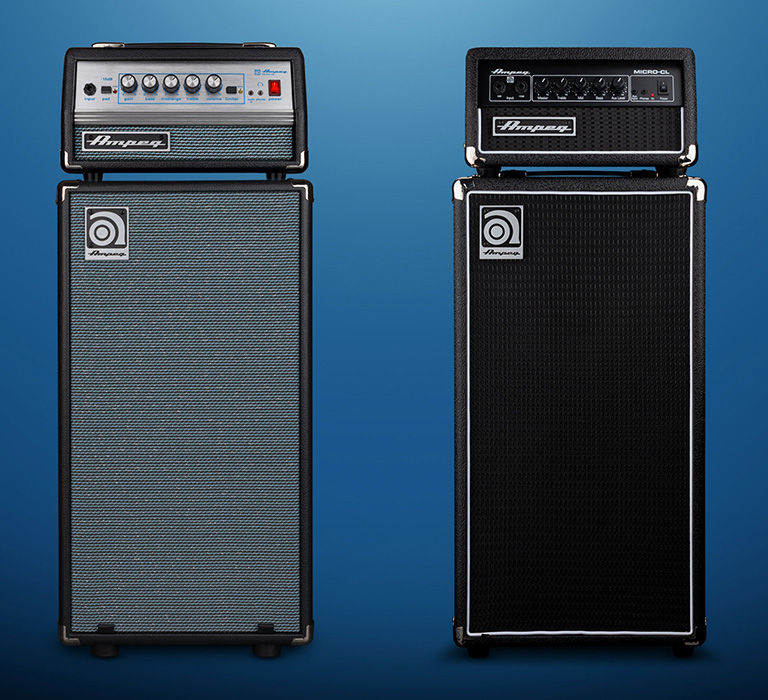 MICRO SERIES
MINI MASTERPIECE
Ampeg Micro Series Amps deliver the same commitment to beautifully burnished, round sound as the SVT®, just in a much smaller package. They make an ideal recording or small-to-medium-gig solution for bass players that favor rich fundamental and track-ready tone. While their distinctive good looks make them an instant conversation piece, their beauty is more than skin deep. Whether you opt for the vintage-style Micro-VR or the more contemporarily appointed Micro-CL, you're getting a pro-level amp with all the key features needed to get any job done—from studio to stage.
---
MICRO-VR STACK
While the Micro-VR may look cute, don't think it isn't a serious tone machine. Ampeg engineers used the burly SVT-VR as their design touchstone, and the result is every bit as capable as its larger sibling, only smaller. The head offers 200 watts of MOSFET power into a 4-ohm load—its ideal partner is the SVT-210AV cabinet, a hardy 2x10 with the same sealed Infinite Baffle design as the classic SVT 8x10 cab. Together, the rig offers authoritative, fundamental-rich tone ideal for small gigs, rehearsals, apartment living, and bleed-sensitive recording situations. And while it's tone might be its most alluring feature; its traditional look makes it a lust-worthy collectible sure to start conversation wherever it lives.
MICRO-VR HEAD
200 Watts
Solid-state preamp
MOSFET power amp
Balanced XLR output
Headphone out, Aux in
Switching power supply
9.9 lb (4.5 kg)
SVT-210AV CABINET
2x10 Eminence® Custom Designed (sealed cabinet)
200 Watts
8 Ohms
15mm Poplar-ply construction
25.9 lb (11.7 kg)
MICRO-CL STACK
Ampeg's SVT-CL is the do-it-all workhorse for the working professional. Yet, many working pros spend much of their time in rehearsals, at home practicing, and at small-to-medium café and club gigs. For those players—most of us, let's be honest—the Micro-CL stack offers the same traditional tone and sonic flexibility as its larger sibling, but in a durable, portable size. Whether you're just beginning your Ampeg journey or are a dyed-in-the-wool fan that wants an Ampeg rig for every situation, the Micro-CL could be just the ticket.
MICRO-CL HEAD
100 Watts
Solid-state preamp
Solid-state power amp
Headphone out, Aux in
3-Band EQ
¼" Unbalanced line out
13.8 lb (6.3 kg)
MC-210E CABINET
Available only as a package with the Micro-CL
2x10 LF drivers
100 Watts
8 Ohms
33.2 lb (15.1 kg)
All specifications subject to change.
Eminence is a registered trademark of Eminence Speaker, LLC.