January 24, 2013
Ampeg Expands Heritage Series with New B-15 Design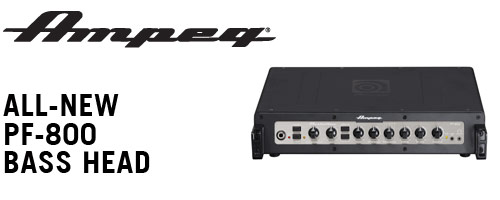 Perfect for power-hungry bassists that demand uncompromising tone
Ampeg today adds a high-powered flagship head to the popular Portaflex Series — The Ampeg PF-800. The PF-800 delivers the superior performance of Ampeg's Portaflex Series bass heads in an ultra-compact 800-watt design perfect for any high-power bass rig.
"An ideal companion to any of pair of Portaflex cabinets, the PF-800 packs the most punch in the PF line…but is still compact enough to stow inside the PF flip-top cab models," remarks Ampeg Product Manager, Zane Williams. "Combine the powerful 800-watt output and the Portaflex form factor and feature set and the PF-800 is easily the most flexible amplifier in the Ampeg line-up."
The Ampeg PF-800 has exceptional headroom and can handle its own on stage, offering the flexibility and features needed for venues large and small. Classic hi/lo boosts and 5-position midrange control offer a wide choice of tone and onboard compression delivers tighter, cleaner tone at higher volumes. It attaches right to the flip-top lid of the PF-115HE or PF-210HE cabs and is perfect for the ported PF-410HLF and PF-115LF extension cabs.
The Ampeg Portaflex Series also includes the PF-350 and PF-500 bass heads and PF-115HE, PF-210HE, PF-115LF and PF-410HLF bass enclosures. The PF-800 will be available in late Q1, 2013. The PF-800 will have a U.S. MSRP of $839.99. For more detailed product information, please click here.