October 19, 2010
Ampeg Reveals All at Bass Player Live 2010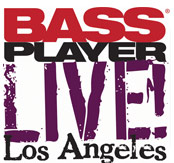 Ampeg has always been a big fan, and sponsor, of Bass Player Live. Well, it's that time again and Bass Player Live kicks off this Saturday, October 23rd, 2010.
For full details on everything that's happening (and there's a lot) visit the official Bass Player Live site.
Visit the Ampeg booth and check out our latest gear. You might even get a chance to chat with several Ampeg endorsers who plan on dropping by including: Mike Inez, Sean Hurley, Alex Al and Darryl Jones.
Darryl will also be playing a special role for Ampeg at Bass Player Live. He will be there to show off Ampeg's latest edition to its made-in-the-USA Heritage line. It is not to be missed. If you want more details about what this "mystery" product is, check out this thread on the Talk Bass forums.
There will be tons of Ampeg gear to play. Mr. Ampeg himself, Dino Monoxelos, will be there to answer any questions you have.
We will post recap photos, etc after the show, but if you live in Southern Cali....you better get to Bass Player Live this weekend.