January 12, 2011
Ampeg Unearths the Holy Grail of Bass Amplification with Launch of Heritage B-15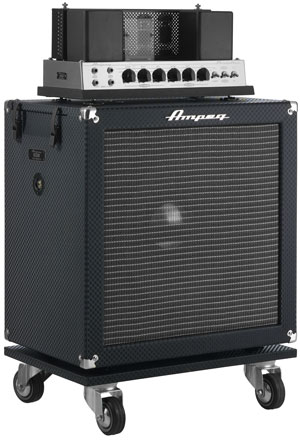 Originally debuted at Bass Player Live 2010 by Darryl Jones and stirring up a ridiculously intensive and lively conversation on the forums at Talkbass, Ampeg proudly announces availability of the extremely limited edition Heritage B-15 flip-top bass combo. Joining the ranks of Ampeg's popular Heritage Series, the Heritage B-15 is hand-built in the U.S. and fully endorsed by Jess Oliver (inventor of the iconic B-15). The Heritage B-15 delivers legendary tone in the most premium Ampeg design ever.
"The Holy Grail of bass amplification is back," remarks Ampeg's Director of Amplification, Pyotr Belov. "Hand-built and hand-wired in the U.S., the Heritage B-15 is truly a labor of love and no expense was spared… it's an unabashed tribute not only to Ampeg's history, but to the man himself, Jess Oliver."
The Heritage B-15 features the circuit paths of both a 1964-era B-15NC and a 1966-era B-15NF, including classic Baxandall tone stacks and premium N.O.S. preamp tubes along with a bias switch, recreating each years' distinctive bias methodology. The extremely high-quality flip-top cabinet features the legendary double-baffle design and houses a custom-designed 15˝ Eminence® driver with a massive 109 oz ceramic magnet. Hand-built by renowned tube amp builder, George Metropoulos, and designed in collaboration with cabinet expert, Mark Gandenberger of Vintage Blue, the Heritage B-15 exudes the unmatched quality in construction and performance that made the original the most recorded bass amplifier in the world.
The Ampeg Heritage B-15 is available in the U.S. only with a 2011 limited edition release of 50 units. Each Heritage B-15 includes a signed letter of endorsement from Jess Oliver and features commemorative badges on both the head and cabinet.
To learn more about this amazing bass combo and to get in touch with a dealer to check for availability, please click here.