January 10, 2017
Ampeg at NAMM 2017 - We're Bringing it to You!
As much as it feels like it when you are there, amidst thousands of people, not everybody is able to go to The NAMM Show. Not familiar with NAMM? Check it out. It's the biggest music instrument/pro audio tradeshow in North America, and Ampeg is always there to meet with Ampeg fans from all over the world.
This year, we want to bring you into the action like never before using Facebook Live. Throughout the show, we will be coming to you with live video streams from the Ampeg booth and beyond. Make sure you like Ampeg on Facebook and ensure you are subscribed so you get notifications when we go live.
Of course, we'll be sure to stream video showing off a couple of great new Ampeg products...
But, there's more!
We've gathered some of our amazing Ampeg artists to conduct clinics right from the Ampeg booth. We're streaming all four of these great clinics live. From tone-shaping demos to how Ampeg is used from a producer's perspective, there is something for any Ampeg fan.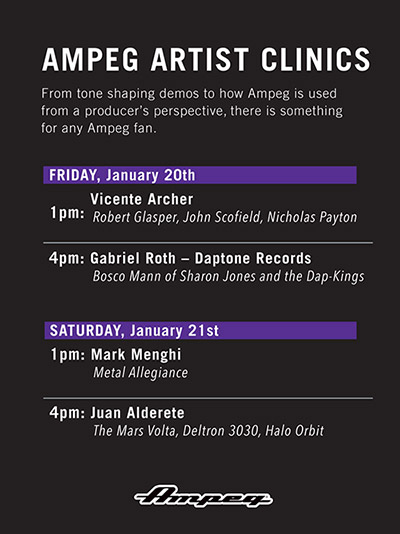 Friday, January 20th

• 1pm PST - Vicente Archer (Robert Glasper, John Scofield, Nicholas Payton)
• 4pm PST - Gabriel Roth (Daptone Records, Bosco Mann of Sharon Jones and the Dap-Kings)
Saturday, January 21st

• 1pm PST - Mark Menghi (Metal Allegiance)
• 4pm PST - Juan Alderete (The Mars Volta, Deltron 3000, Halo Orbit)
Actually at the show? Visit Ampeg upstairs in Demo Room 209A and be sure to keep up with us on Twitter, the best source to know what's up with Ampeg during the show.