October 13, 2011
Check Out One Louder Magazine

We are excited to share a cool digital music mag straight from our technical writer who writes your awesome manuals, user guides, etc. His name is Troy Monteforte and he is awesome. While there are a lot of music lovers here in the office, Troy has them all beat. I bet the guy listens to 15 new albums each and every week. And it's not just topical listening…just go up and ask him about any album he has ever heard and sit back.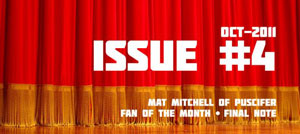 So, it stands to reason that someone with such strong writing talents and love of music would publish a music mag…and he did.
Check out the latest issue of One Louder Magazine. In this issue there is an in-depth interview with Mat Mitchell, programmer extraordinaire for groups like Puscifer, TOOL, Nine Inch Nails, Queens of the Stone Age and more.
So, a cool music mag with personal insight from someone who knows his stuff. Awesome. Just make sure you subscribe so you get the next issue. Totally free, of course.
You can also connect up with One Louder Magazine on Facebook and Twitter. It's a great place to discuss music in-between issues.