March 10, 2008
I Can Play Clearly Now, The Wood Is Gone...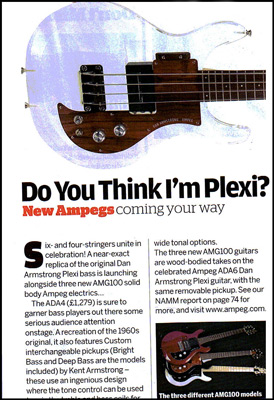 Another bit from Guitarist [UK]'s issue #301 reported the true fact that we're going to be reissuing the original Ampeg Dan Armstrong Plexi Bass. That's right... you can play clearly now, the bass is here. Gone are the dark clouds that had you blind... the 4-string tone machine with the body you can see through, thanks to its plexiglass (perspex to you limeys) body.
Of course, it was only a matter of time before we reissued this baby, since the guitar has done so well. And though some of the bass magazines missed it (perhaps they couldn't see it?), the super sleuths at Guitarist "saw their way clear" (couldn't resist) to running at least a little blurb on it.
To quote them: "The ADA4 is sure to garner bass players out there some serious audience attention onstage. A recreation of the 1960s original, it also features custom interchangeable pickups (Bright Bass and Deep Bass are the models included) by Kent Armstrong [Dan's son, btw]--these use an ingenious design where the tone control can be usel to split the treble and bass coils for wide tonal options."
Once again, thanks to Dave Burrluck and crew for the copy block and now if we could just get someone over in the UK to send our editor a box of Tunnock's Caramel Wafer biscuits, our (my) work here would be done.