March 11, 2008
Pianos 'N Stuff Pittsburgh Opens a Brand New Bass Room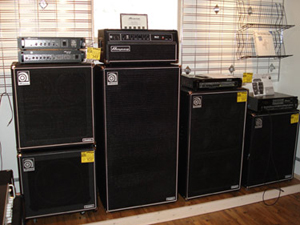 Pianos 'N Stuff has just opened up their brand spankin' new bass room in their Pittsburgh PA store and Ampeg was there to welcome this great new addition to the bass community.
Ampeg's very own Dino Monoxelos and LOUD Technologies District Sales
Manager Terry Dockrill were on hand for Pianos 'N Stuff's March Madness
Sale on Saturday, March 1st. This is an annual event they put on every March, and this year they debuted a brand new area packed with all these cool basses in one room and yes you guessed it: Ampeg in the soundroom, which by the way is completely soundproofed. Believe us when we tell you... 'cuz we tested it with some of the new Ampeg gear your see here.
Pianos 'N Stuff is located at
468 Freeport Road
Pittsburgh, PA 15238
(412) 828-1003 Phone
(412) 828-6405 Fax