March 29, 2021
Rocket Bass Series Brings Classic Ampeg Tone and Contemporary
Features to a Comprehensive Series of Premium Bass Combos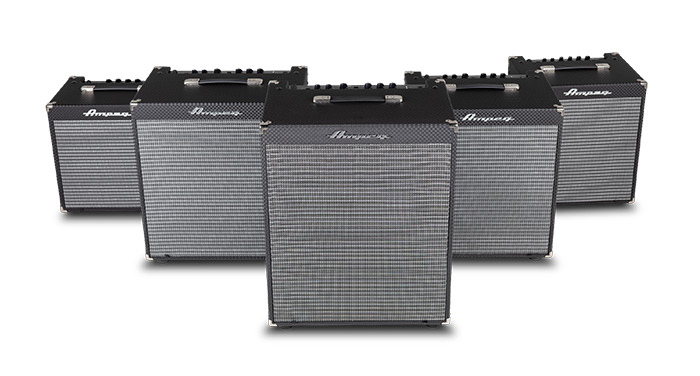 CALABASAS, Calif. March 29, 2021 — Ampeg today introduced the Rocket Bass® series of five powerful yet lightweight combo bass amplifiers, comprising a full range of models perfect for everyone from beginners to professionals.
"With the introduction of Rocket Bass, Ampeg has an industry-leading series of amps for players at every step of their journey," said Dino Monoxelos, Ampeg Brand Marketing Manager. "Simply put, we wanted to design the ultimate bass combos, sacrificing nothing in terms of tone or aesthetics. Most important, Rocket Bass is designed for the practical player that doesn't want to give up stage-ready looks, roadworthy construction, and killer tone just because they prefer the practicality of a combo amp."
Ampeg bass amps have carved out a legacy unsurpassed in the industry, with the all-tube SVT® long established as the must-have rig for ultimate big-stage tone and the B-15 Portaflex® enjoying the same reputation among top-tier recording engineers—and these new Rocket Bass combos extend that tradition, delivering unparalleled performance, stunning '60s-style looks, and robust feature sets in lightweight and portable packages.
Available in a broad variety of configurations, Rocket Bass amps range from the surprisingly potent 30-watt RB-108 to the concert-ready 500-watt RB-210. And just like their famed larger siblings, Rocket Bass combos offer essential Ampeg features such as 3-band EQ, signature Ultra Hi/Ultra Lo switches (RB-112 and up), and the new Super Grit Technology™ overdrive circuit, all of which combine to produce legendary Ampeg tone. Plus, XLR line outputs (except RB-108), auxiliary inputs, and headphone outputs ensure that Rocket Bass combos are ready to rock in any situation.
Custom padded covers embroidered with the Ampeg logo are available for RB-112, RB-115, and RB-210 amplifiers.
Pricing & Availability
RB-108 $209.99 US MSRP
RB-110 $321.99 US MSRP
RB-112 $559.99 US MSRP (Cover $69.99 US MSRP)
RB-115 $741.99 US MSRP (Cover $69.99 US MSRP)
RB-210 $909.99 US MSRP (Cover $83.99 US MSRP)
Rocket Bass amplifiers will be available spring 2021.
Learn more at https://ampeg.com/rocket-bass