May 19 2021
SVT Suite Delivers Authentic Ampeg Bass Amp Tone in a Plugin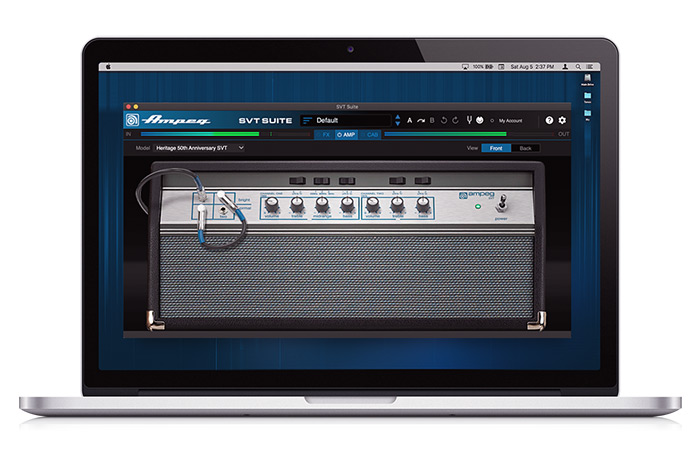 CALABASAS, Calif. May 19 2021 — Ampeg today introduced the SVT Suite bass amplifier plugin, which features three of the most highly coveted SVT® amplifier heads: The Heritage™ 50th Anniversary SVT, the Heritage SVT-CL, and the SVT-4PRO. The plugin represents the first foray into amplifier modeling by Ampeg, the company that defined electric bass tone with the iconic "flip-top" B-15 Portaflex® combo amp in 1963 (the most recorded bass amplifier in the world) and then again in 1969 with the mighty 300-watt SVT amplifier. Intended for home and professional recordists alike, the SVT Suite plugin brings that same legendary Ampeg tone to any studio environment.
"For the first time ever, we're offering the amp that redefined rock bass tone in a plugin format," said Dino Monoxelos, Ampeg Brand Marketing Manager. "No third parties, no proprietary hardware, just straight-up bass tone direct from Ampeg, the most trusted name in bass. And for all those who want SVT tone without having to move a large amp, or make room for it in a small studio, what could be better than having three of our finest SVT heads, a bevy of Ampeg cabinets, and a great selection of mics and effects pedals, all in a single plugin?"
The SVT Suite plugin's photorealistic interface—featuring Amp, Cab, and FX views—makes using it a simple and familiar experience. Flip a switch, turn a knob, patch in a cable, just like on a physical rig.
The three SVT amp heads can be paired with any of eight speaker cabinets and third-party IRs may also be loaded. Dual-Cab and Dual-IR modes allow two cabs or IRs to be used simultaneously. The cabs may be miked with any of six virtual microphones, and you can adjust the positioning of the mic in relation to the cab speaker, as well as blend in one of three stationary room mics. Models of the Ampeg Liquifier Analog Chorus, Opto Comp Analog Optical Compressor, and Scrambler Bass Overdrive pedals are also included, along with the new Rocktaver™ and Phasifier™ effects. And for those who prefer to add a parallel direct signal (or even go straight DI), there is a virtual version of the renowned SVT-DI studio direct box.
All this adds up to one extremely powerful plugin, offering nearly unlimited variations on authentic Ampeg SVT tone. A fully functional 15-day trial version of the 64-bit plugin is available in AAX, AU, and VST formats.
Pricing & Availability
SVT Suite is $199.99 USD (MSRP) and is now available worldwide.
Learn more at https://ampeg.com/svt-suite/