December 6, 2007
Teacher, Teacher Teach Me Bass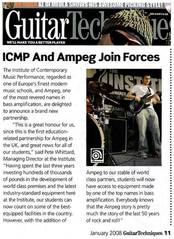 Ampeg is excited to be teaming up with England's Institute for Contemporary Music Performance, helping make superb bass amplification available to prospective bass players from all over Europe.
"Everybody knows that the Ampeg story is pretty much the story of the last 50 years of rock and roll," says Pete Whittard of the ICMP in January 2008's Guitar Techniques magazine. "This is a great honour for us, since this is the first education-related partnership for Ampeg in the UK." By the time you read this a nice big shipment of Ampeg bass rigs of all sizes will have swam across the Atlantic and landed on the white shores of Dover... or wherever they tend to land big freight ships--Liverpool? Blackpool? Swimmingpool?
"Our students can now count on some of the best-equipped facilities in the country," continues Whittard, "[including] equipment made by one of the top names in bass amplification."