January 13, 2012
The Classic Ampeg Reverberocket Gets the Heritage Treatment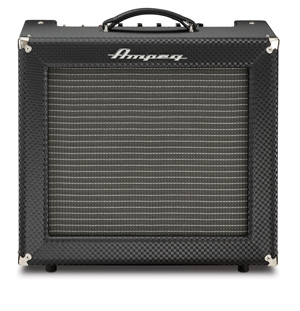 Ampeg's legendary Reverberocket tube guitar combo is back! Just like the Heritage B-15 and the Heritage SVT line, the Heritage R-12R Reverberocket is built to exacting standards that meets or surpasses the quality of the original design. Hand-wired and assembled in the U.S.A. using the most premium components available, the Heritage R-12R offers the authentic tube-driven reverb and smooth tremolo that made the original one of the most revered guitar combos ever.
High-grade tubes include signature 6SL7/6SN7 octal preamp tubes, a 5AR4 rectifier and 6L6 power tubes, for a choice of 15 or 30 watt output. The premium Celestion® Alnico Gold speaker, chosen only after intensive listening tests to ensure the authentic vintage tone. Completing the Heritage look, the chrome-plated chassis, Black Diamond tolex and meticulous construction are as high-quality and beautiful as the signature tone of this classic guitar amplifier.
This is a limited edition run of 100 total units worldwide for 2012.