January 25, 2018
Two All-New Ampeg Stompboxes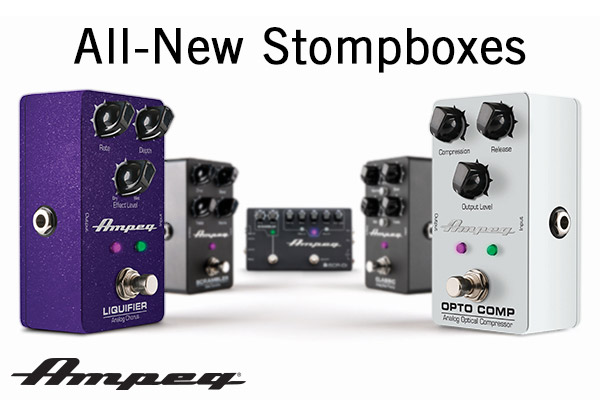 ANAHEIM, CA, USA – January 25, 2018 — Ampeg today announces the release of the all-new Liquifier Analog Chorus and Opto Comp Analog Optical Compressor pedals. The two new designs join the growing line of award-winning pedals loved by countless musicians around the world
The Liquifier Analog Chorus pedal delivers incredibly rich tones thanks to its dual chorus circuit. With this uncommon design, the Liquifier Chorus not only offers incredibly lush, dreamy chorus tones, but can push it in to another dimension allowing for a whole new level of creativity. Dialing in your perfect sound is easy too, with straightforward Rate, Depth, and Effect Level controls. In addition to sounding amazing, the Liquifier stands out visually as well with a beautiful Sparkle Purple finish
"This isn't your typical chorus pedal," remarks Ampeg Product Manager Ryan Cassady. "The dual circuit design opens up a new world of chorus sounds that, until now, were only available in much pricier pedals. You're going to love its versatility and creative potential."
The Opto Comp Optical Compressor pedal utilizes an optical circuit to deliver smooth, vintage style compression that is popular with bass players in the studio and on the stage. A perfect addition to any Ampeg rig, the Opto Comp adds headroom and sustain to your tone. Designed for maximum versatility the Opto Comp is perfect for all playstyles, basses, and guitars as well. Featuring a Vintage White finish to contrast perfectly with the rest of your Ampeg pedal collection.
"Adding a compressor to your setup is one of the easiest ways to step up your tone and consistency," remarks Cassady. "And our optical design delivers smooth, musical compression while preserving the sound of your guitar or bass and amplifier."
Bass and guitar players alike will love the wide array of chorus tones of the Liquifier and the smooth, musical compression of the Opto Comp. Both pedals feature rugged, roadworthy construction, true-bypass switching, and a pedalboard-friendly size that matches existing Ampeg pedals perfectly.
The new Liquifier Analog Chorus and Opto Comp Optical Compressor will be available beginning April 2018. Sold individually, the Liquifier will have a U.S. MSRP of $139.99 and the Opto Comp will have a U.S. MSRP of $139.99.
For more information on the new pedals, visit ampeg.com/products/pedals/