August 4, 2015
Universal Audio Announces New Ampeg Bass Amp Plug-ins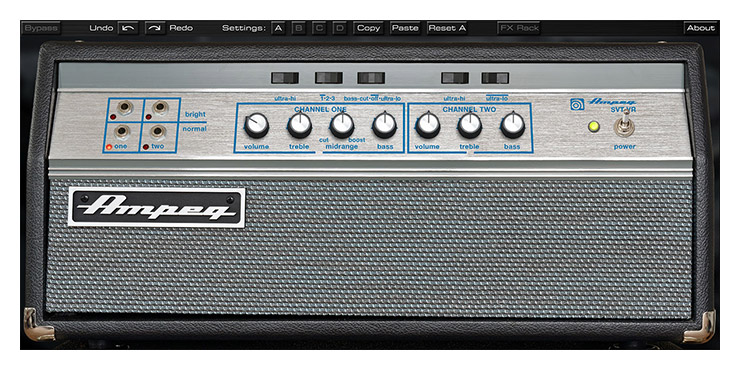 Also available as the Ampeg Bass Amplifier Plug-In Bundle for $229, each of these emulations feature modern workflow enhancements such as Recording Chain presets which feature various cabinet/mic/preamp selections, and more.
Ampeg SVT Bass Amplifier Plug-Ins Key Features:
• Two expertly modeled versions of the legendary SVT amps from Ampeg, exclusively for UAD hardware and Apollo interfaces
• Modern workflow enhancements including an onboard FX Rack and recording chains
• Feels like a real amp when played through Apollo's Realtime UAD Processing
• Re-Amp previously recorded DI bass tracks to add warmth and depth
• Bundle includes Brainworx bx_tuner
About UAD Powered Plug-Ins
Powered by Universal Audio's popular UAD-2 DSP Accelerator hardware and Apollo Thunderbolt audio interfaces, UAD Powered Plug-Ins offer the world's most authentic analog hardware emulations and award-winning audio plug-ins on Mac and PC. UAD plug-ins deliver rich, analog sound quality that would be difficult or impossible to achieve with native recording systems.
About Universal Audio Inc.
Founded in 1958 by recording pioneer Bill Putnam Sr., and refounded in 1999 by Bill Putnam Jr., Universal Audio is best known for its classic, hand-built analog hardware and advanced UAD Digital Signal Processing technology for recording, mixing, and mastering audio. Headquartered in Scotts Valley, California, UA is focused on merging the best of vintage analog and modern digital technology, following its rich recording heritage and motto, "Analog Ears. Digital Minds."www.uaudio.com.'
©2015 Universal Audio, Inc. All rights reserved. Product features, specifications, pricing, and availability are subject to change without notice. The "Universal Audio" name, UA "diamond" logo, "Apollo," "Apollo Twin," "UAD," "Powered Plug-Ins," and "UAD-2 Powered Plug-Ins" are trademarks of Universal Audio Inc. All other trademarks contained herein are the property of their respective owners.