February 17, 2016
Ampeg Sponsors North American Independent Rock Music Awards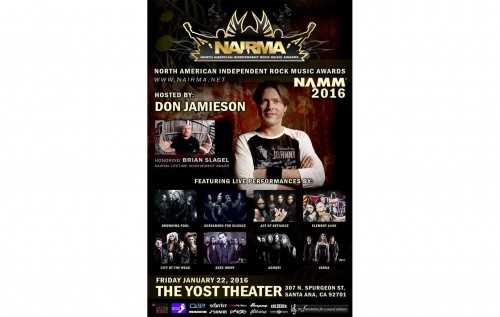 Santa Ana,CA February 17, 2016 — Created by the North American Independent Music Association to support the nonprofit Foundation for a Sound Solution, the North American Independent Rock Music Awards (NAIRMA) recognizes creative and technical excellence in the independent music community. Mackie and Ampeg are proud sponsors of this event.
Held in Southern California on January 22, 2016, the 2015-2016 awards were hosted by Don Jamieson of That Metal Show. At the ceremony, the Lifetime Achievement Award was presented to Metal Blade Records founder Brian Slagel for his outstanding contributions to the independent music community.
Several award nominees performed, including Drowning Pool, Act of Defiance, Screaming for Silence, Element a440, Seek Irony, City of the Weak, and Varna. Mackie and Ampeg contributed audio equipment and peripherals for the concert's backline, notably Ampeg's legendary SVT Classic-Series bass amps. The bass players relied on such all-time favorites as the 300W Ampeg SVT-CL all-tube bass head, favored by such luminaries as George Clinton (P-Funk) and Gene Simmons (KISS), and the SVT-810E bass enclosure, a legend since 1969, with eight 10-inch low-frequency drivers that generate up to 130 dB of rich, full low end.
"We are delighted to be able to help out the North American Independent Rock Music Awards," enthuses Ampeg Senior Product Specialist/Clinician Dino Monoxelos. "The awards raise money for an excellent cause: The foundation provides grants to independent artist who want to continue their music education or need help funding projects. We wanted to do our part to help."
"Mackie and Ampeg have been wonderful," responds NAIRMA/The Foundation for a Sound Solution president Jeffrey Totten. "Of course, we knew the musicians would be pleased with the amps; no doubt every bass player on that stage has used Ampeg amps, and they sounded great. We appreciate the support Mackie and Ampeg provided and hope to do it again next year!"
For more about Ampeg products, please visit ampeg.com.
For more about Mackie products, please visit mackie.com.