March 23, 2010
Building a Heritage: Part Two - Heritage SVT-CL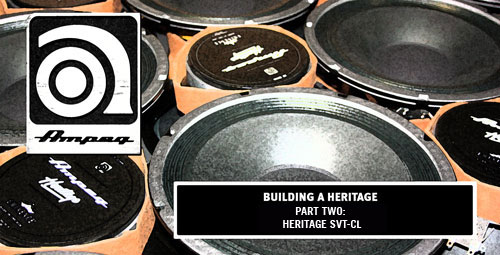 Ampeg's new Heritage line is designed and assembled in the U.S.A., right down the street from Ampeg headquarters in Woodinville, WA. Besides being built out of the best possible components, the new Heritage line will undergo rigorous testing to make sure it looks and sounds like a piece of Ampeg history should.
We are going to document some of the key milestones of this historic build on our blog. Next up in production is the Heritage SVT-CL. You are all probably very familiar with our long-lasting line of all-tube bass heads. If not, you are missing out. The original SVT was introduced in 1969 and pretty much changed the game of bass amplification forever. Today, the vast majority of national touring acts use Ampeg for their bass rig.
Over the past few years we heard from countless pro and not-yet-pro bassists who really wanted to get their hands on a US-made SVT rig. Well, we are happy to provide. Our new Heritage SVT-CL delivers 300 watts of Ampeg goodness. It's a perfect match for the Heritage SVT-810E or the Heritage SVT-410HLF, depending on how you roll.
Here are a bunch of great pics from our production facility down the road. You can click here to learn more about the Heritage Series. They are extremely limited, so be sure to get in touch with an authorized Ampeg dealer right away so they can try to get an order in!