August 22, 2013
New 12-Inch Cabs for the Ampeg Classic Line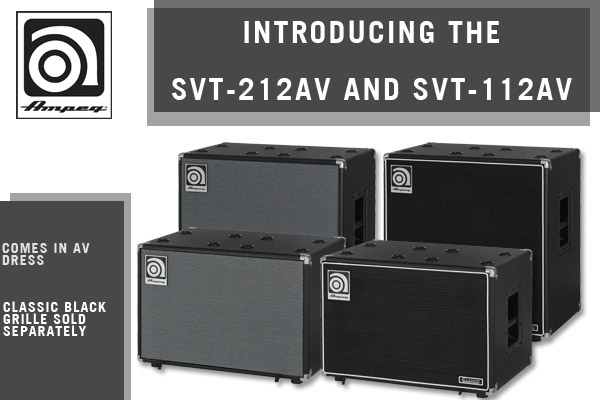 We are extending our industry-dominating Classic Series cabinet line with two new models - the SVT-112AV and SVT-212AV. Both feature custom 12-inch drivers from Eminence and represent the first time Ampeg has offered a bass cabinet with 12-inch drivers in nearly a decade.
"There is something amazing about using 12-inch drivers on a bass cabinet," remarks Ampeg Product Manager Zane Williams, "They are the perfect size to bridge the gab between the fast transient response players want and the rich low end they expect from an Ampeg SVT cab."
Both cabinets are built using rugged 15mm poplar ply and deliver on the vintage Ampeg look, featuring AV Tolex and grille cloth. The classic black grille is available separately from Ampeg for those that want to pair the cab with an SVT-CL or other Ampeg head. With a choice of a single or dual 12-inch design, both with a 1-inch compression driver, the new SVT cabs provide even more possibilities when building an Ampeg bass rig.
Rate at 300W RMS power handling at 8 ohms, the SVT-112AV is a great match with the PF-350, Micro-VR or for integrating with other Ampeg cabinets into a single rig. The SVT-212AV is a 4 ohm cab rated at 600W RMS. This is perfect for the all-new Ampeg V-4B along with other heads like the SVT-CL, SVT-VR or PF-800.