January 13, 2012
New Micro-CL Stack Packs Pure Ampeg Tone into a Pint-Sized Package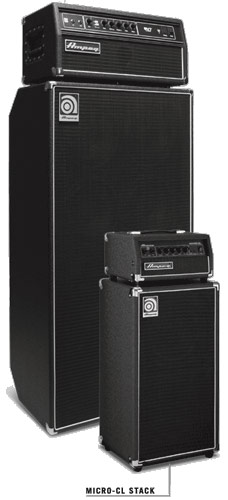 Let's face it. If your significant other let you keep your full SVT stack in the living room…you would. That's the beauty of the new Ampeg Micro-CL Stack. You can get your Ampeg fix just about anywhere.
The all-new Micro-CL Stack offers the undeniable vibe of the revered Ampeg SVT in a size more befitting a living room than a stadium. It's the perfect entry point into the world of Ampeg. It's also a great piece for any die-hard Ampeg fan that wants to plug in anywhere and everywhere.
Portable hardly describes it, but it delivers 100 watts of power from the solid state head and companion 2 x 10″ enclosure. Features include a dedicated FX loop, unbalanced direct out and an 1/8″ input and output, allowing for practice along with a favorite audio track or silent rehearsal using headphones. The rugged 2 x 10″ cab delivers classic Ampeg tone and is perfectly matched with the Micro-CL head. Even though they aren't physically connected together, the head and the cab come as a package and are not sold separately.
To get the full specs and get more info, please visit the Micro-CL Stack page at www.ampeg.com.
Available in the U.S. and Canada in February, 2012 (Internationally availability in April).