August 8, 2013
The Ampeg V-4B 100W All-Tube Bass Head is Back!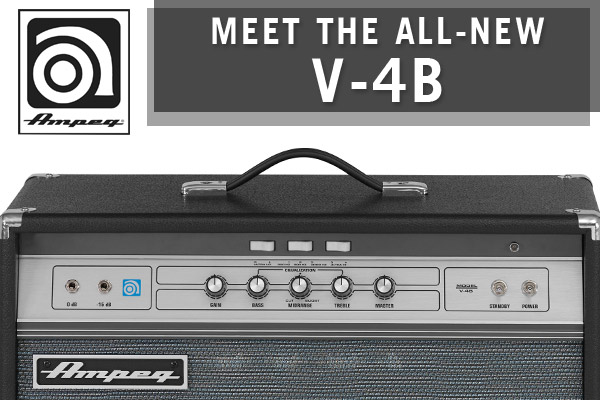 Ampeg is extremely proud and excited to announce a truly remarkable reissue of the legendary V-4B 100W All-Tube Bass Head. The original earned a place in bass history, delivering pure all-tube tone and unmistakable grind that is one-of-a-kind. The all-new V-4B head embodies this legendary tone in a stage-worthy package that is unquestionably V-4B.
"From the vintage rocker switches to the unique chassis suspension system... the attention to detail is all there," remarks Ampeg Product Manager, Zane Williams. "And, of course, the tone had to be perfect. It's the classic all-tube Ampeg sound in a head that's less than half the weight of an SVT. You've got to love that."
While the new V-4B is sure to appeal to fans of the classic original, it is also ideal for bassists who crave the tone of the Ampeg SVT head, but don't need that level of power or who want a more portable option. The V-4B is the same width as the SVT-CL and SVT-VR and fits securely onto any Classic Series Ampeg cabinet including the all-new SVT-112AV and SVT-212AV.

"100 watts of all-tube power is really a sweet spot for professional bassists," remarks Williams. "With the new V-4B, you not only get the sought-after tone of a fully-cranked Amepg tube amp at volumes more suitable for modern venues and applications, you also benefit from a huge gain in portability."

The Ampeg V-4B design process involved sampling a wide range of vintage V-4B heads for reference with the goal of achieving preamp and power section circuits and overall tone that undeniably V-4B. However, by using a modern-day analog approach, there is an increase in both reliability and serviceability. A focused selection of modern features includes an integrated DI with ground lift, a -15dB input for active basses and a range of speaker outputs at different impedances. Maintaining the tone and integrity of the classic V-4B was the primary design goal, but the addition of these modern features adds flexibility and functionality perfect for today's players.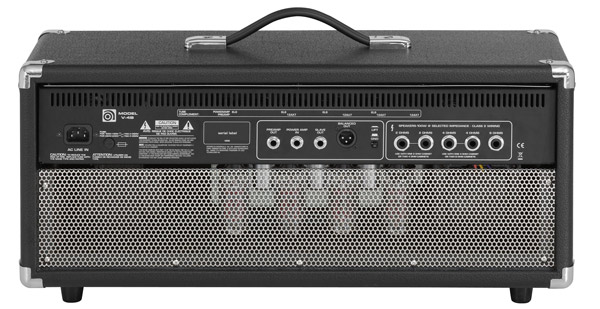 The new Ampeg V-4B has an estimated availability starting in late August, 2013.