May 13, 2013
The Bittersweet Experience of Working a Tradeshow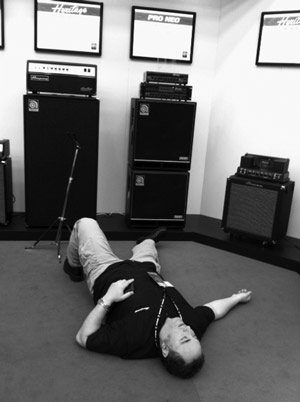 Dino Monoxelos is Ampeg's Senior Product Specialist and has a long, long relationship with Ampeg. He is also an accomplished bassist and author of bass instruction books. You can read more about Dino at www.monotunesmusic.com>
Trade shows are a bittersweet experience for me. Probably more sweet than bitter though. Sweet in the way that I get to meet so many great people and fans of Ampeg that I otherwise wouldn't have met. So many people come up and introduce themselves and say thank you for the videos or the help that I might have offered through an email. Store owners and employees that I've met over the years coming in to see the latest and greatest gear from Ampeg. Friends that work in the industry that I only get to see and catch up with once or twice a year that come by the booth to say hello and, if I'm lucky, have time for dinner in the evening.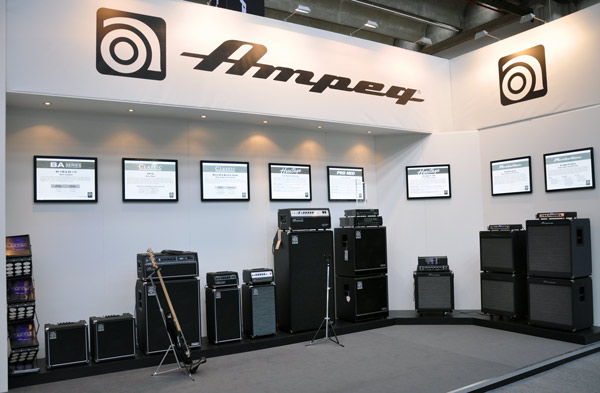 Tradeshows can be bitter in that they are a tremendous amount of work on everyone involved in attending, coordinating and setting up the show for Ampeg. Usually the ones attending are the ones setting up too. Not to mention the cost involved in attending one of these shows. There is an unfathomable amount of man-hours put into the months before, during and after one of these shows. Its mind boggling just what goes into it. On a personal note, these shows are some of the most physically demanding aspects of my gig as a product specialist. Picture having to un-box half a dozen SVT heads and half a dozen 810 cabs before a show and then box them back up after the show. This is on top of un-boxing and re-boxing all the other amazing gear that we present at a trade show. Just being on your feet 16 hours a day for four days straight is enough to cripple anyone.
I was just recently attending the 2013 Musik Messe in Frankfurt Germany when I was reminded of a couple of reasons why the sweet will always outweigh the bitter….
As I was walking toward the display one morning to start my day, I noticed a young man facing me in the aisle just alongside the booth. As I got closer to this guy, I noticed he was beaming a smile from ear to ear. As soon as came into earshot of him, he simply smiled and asked (in very broken English) "Dino"? I answered… "Yep, that's me." As he held his hand out to shake mine he said how he very much wanted to meet me and thank me in person for all the videos that I've done for Ampeg and how owning an Ampeg amplifier has been a life-long dream for him. My videos gave him that little bit of faith that he would someday be able to own one. I can't explain just how honored and humbled I was from this. Working for Ampeg, to me, is a dream come true. But being so close to it on a daily basis, sometimes I forget just how cool of a gig I've got and how, as a young bass player many years ago, I aspired to own a big SVT rig someday too! This meeting reminded me of that.
Second incident was when another bass player came in to the booth to try out a few things but couldn't speak a lick of English. Unfortunately, I ONLY speak English, and sometimes not very good, with a thick Boston accent and all! However, even though we couldn't communicate verbally, we were able to communicate through hand gestures and eventually, by playing together. This also reminded me of how even though two individuals who cannot communicate verbally together can still manage to communicate because of their mutual love of music and their instrument.
So, after all said and done, I have to say in my honest opinion that the sweet outweighs the bitter. I know there are some that might disagree with me on this. After all, historically, trade shows were designed for manufacturers to show off new gear in hopes of selling more of it to store owners and distributors. Hopefully the business that is written at these shows outweighs the expense in going to the show. However one really can't dispute the sense of community and camaraderie felt at these events among their attendees.